Café Society was filmed in Los Angeles & New York in the United States of America.
Locations
Grauman's Chinese Theatre
6925 Hollywood Boulevard, Los Angeles, CA 90028, USA
Scene where
Scene was shot After the success of the nearby Egyptian Theatre showman Sid Grauman constructed the Chinese Theatre in 1927 by architects Meyer & Holler. This grand movie palace was constructed at over twice the cost of his previous venue and is known for its grandeur both inside and out. The theatre is the origin of the famous celebrity handprints, starting with Norma Talmadge before construction was complete and eventually including over 200 concrete blocks in the forecourt. Grauman hired specialist Jean Klossner to develop an extremely hard concrete specifically to preserve the handprints.

On the map

Timing: None
GPS: ['34.1020372433856', '-118.340925773775']
Real
In movie
Bow Bridge (Central Park)
Bow Bridge, New York, NY 10024, USA
Scene where
Scene was shot A cast iron bridge crossing over The Lake designed by Calvert Vaux & Jacob Wrey Mould and opened in 1862, the first cast-iron bridge built in the park. Bow Bridge is the longed bridge in Central Park clocking in at 87 feet. The bridge is topped by eight cast-iron urns which are duplicates installed in 2008 to replace the originals which disappeared in the 1920s.

On the map

Timing: None
GPS: ['40.7757809334', '-73.9718041196']
Real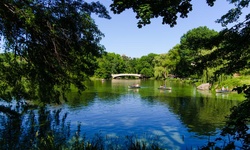 In movie