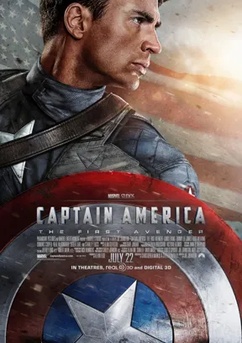 Captain America: The First Avenger was filmed in London, Manchester, & Liverpool in the United Kingdom and Los Angeles & New York in the United States of America.
Locations
Jumping between Cars
Scene where Steve jumps between the roofs of several moving cars and lands atop the taxi the Hydra agent is driving.
Scene was shot None
Real
In movie
Booklyn Pier 13
Scene where Steve catches up with the Hydra agent who is trying to escape in a submarine and attempts to interrogate him before the agent commits suicide.
Scene was shot None
Real
In movie
Movie Theater
Scene where Steve Rogers confronts an annoying person while watching a newsreel about the war.
Scene was shot Hackney Empire is a former music hall constructed in 1901 by architect Frank Matchan. Over the years the building has been used for a number of purposes including as a television studio for ATV and a bingo hall, but was transformed back into a permanent performance space in 1986.
Real
In movie
Brooklyn Street
Scene where Steve and Peggy are driven through Brooklyn.
Scene was shot None
Real
In movie
S.H.I.E.L.D. Facility (exterior)
Scene where Steve runs out of the hidden S.H.I.E.L.D. facility and finds himself in the middle of modern-day New York City.
Scene was shot None
Real
In movie
Army Camp
Scene where Steve's Captain America performance gets a less than warm reception at an army camp in Italy. He returns to the camp after rescuing Bucky and the other soldiers.
Scene was shot Throughout the 20th century Bourne Woods operated as a conifer plantation by the Forestry Commission. The woods gained popularity as a filming location when Gladiator shot there in 1999 and as has been used for many productions despite restrictions on filming by the local council.
Real
In movie
Camp Lehigh (flag)
Scene where The recruits are challenged to recover the flag from the top of a flag pole during their run.
Scene was shot Constructed on land purchased by Walt Disney in 1959, Golden Oak Ranch is a 890-acre movie ranch located at the entrance of Placerita Canyon to the east of Santa Clarita. The ranch contains suburban & downtown backlots as well as a variety of cabins and outdoor areas for filming.
Real
In movie
Victory Celebration
Scene where People celebrate in the square after the war is won.
Scene was shot Trafalgar Square is a major public square which opened in 1844 after nearly twenty years of construction based on a design by architect John Nash. The square is named after the British naval victory at the Battle of Trafalgar and features the 218-foot Nelson's Column to commemorate the admiral lost at the battle. At the north end of the square is the National Gallery and underneath it is Charing Cross Underground Station.
Real
In movie
Camp Lehigh (field)
Scene where Steve goes through training with the other super soldier recruits.
Scene was shot Black Park is a 618 acre park located in Buckinghamshire. The park is popular with films due to its easy accessibility, flat landscape with relatively little undergrowth, and convenient location right next door to Pinewood Studios.
Real
In movie
Brooklyn Pier Road
Scene where The Hydra agent turns onto the pier while Steve rides on the roof of his car.
Scene was shot None
Real
In movie
Hydra Base
Scene where Steve sneaks into a Hydra facility to rescue Bucky and the other captured soldiers.
Scene was shot The former Royal Navy Propellant Factory located just east of Newport has been used primarily for training purposes since 1993. Originally opened in 1939 to manufacture explosives, and turned over to US administration in 1967 as a munitions storage facility.
Real
In movie
Times Square
Scene where Steve runs into the center of Times Square and is soon surrounded by S.H.I.E.L.D. agents and greeted by Nick Fury.
Scene was shot Times Square is an incredible popular tourist destination at the heart of Manhattan's Broadway Theater District. The north half of the square is also known as Father Duffy Square, named in 1937 after U.S. Army Chaplain Francis P. Duffy who was the most highly decorated cleric in the history of the Army for his service during WWI. The square contains the distinctive red TKTS booth with tiered seating and a statue of the father of American musical comedy, George M. Cohan. The south side of Times Square continues past 45th Street.
Real
In movie
Awards Ceremony
Scene where Steve doesn't show up to receive an award for his heroism.
Scene was shot None
Real
In movie
London Bar
Scene where Steve drinks in a bar with the Howling Commandos. Later, after the loss of Bucky, he is joined by Peggy while drinking alone in the bar.
Scene was shot Crocker's Folly is a Northern Renaissance style pub and inn built in 1898 by architect Charles Worley. The pub was originally known as The Crown, but was renamed in 1987 to its longstanding nickname based on an false story about the original owner, Frank Crocker, building the pub on this site due to a false tip-off about it being near the new terminus of the Great Central Railway and losing his fortune when that turned out to be wrong.
Real
In movie
Hydra Base Entrance
Scene where Steve jumps over the gate at the Hydra base and is soon joined by the rest of the Commandos.
Scene was shot None
Real
In movie
Allied HQ
Scene where Newspapers talking about Captain America are sold on the street above the underground bunker where Steve is prepared for his training.
Scene was shot None
Real
In movie