Keeping the Faith was filmed in New York in the United States of America.
Locations
Bow Bridge (Central Park)
Bow Bridge, New York, NY 10024, USA
Scene where
Scene was shot A cast iron bridge crossing over The Lake designed by Calvert Vaux & Jacob Wrey Mould and opened in 1862, the first cast-iron bridge built in the park. Bow Bridge is the longed bridge in Central Park clocking in at 87 feet. The bridge is topped by eight cast-iron urns which are duplicates installed in 2008 to replace the originals which disappeared in the 1920s.

On the map

Timing: None
GPS: ['40.7757809334', '-73.9718041196']
Real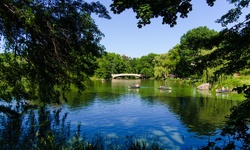 In movie
The Metropolitan Museum of Art
1000 5th Ave, New York, NY 10028, USA
Scene where
Scene was shot The Met was originally constructed in 1872 in the High Victorian Gothic style by architects Calvert Vaux and Jacob Wrey Mould. The design of the original building's design was considered an eyesore, so a new Beaux-Arts facade was constructed along with a number of other improvements by 1902. Two additional wings were constructed along Fifth Avenue in the following decade and over the following century the museum expanded backwards in a mishmash of different styles and is now over 20 times the size of the original structure, more that two million square feet. The Met is the largest art museum in the United States with over two million works in its permanent collection. A portion of the collection is housed in The Cloisters, a smaller museum focused on Medieval art and architecture in Fort Tryon Park.

On the map

Timing: None
GPS: ['40.7794487373', '-73.9632976055']
Real
In movie