Little Murders was filmed in New York in the United States of America.
Locations
The Mall (Central Park)
The Mall, New York, NY 10019, USA
Scene where None
Scene was shot The Mall, running from the flower bed on Center Drive in the south to Bethesda Terrace in the north, is the only straight path in the entire park. The path runs through a series of statues of famous writers known as the Literary Walk and past the Naumburg Bandshell. The walkway and surrounding American elms were built in 1857 and designed as part of the large park by landscape architects Frederick Law Olmsted and Calvert Vaux.

On the map

Timing: None
GPS: ['40.7721854016', '-73.9716475062']
Real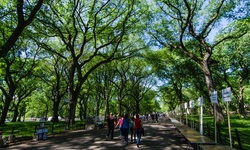 In movie