Men in Black was filmed in New York & Jersey City in the United States of America.
Locations
Battery Park
Battery Park, New York, NY, USA
Scene where Kay offers Jay a position in the M.I.B. and Jay sits around considering the choice.
Scene was shot The southern shore of Manhattan has been known as The Battery as far back as the 17th century when it housed the guns that protected Manhattan from attacks by sea. The remaining west battery, known as Castle Clinton and built just before the Ware of 1812, was originally constructed on a small island off the shore and eventually the land expanded and encircled the fort in 1855. The modern park now occupies 25-acres and features a small far, restaurant, carousel, and WWII memorial.

On the map

Timing: None
GPS: ['40.7031026295', '-74.0157511685']
Real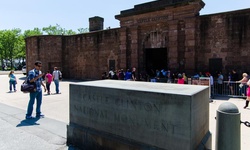 In movie
Unisphere
Unisphere, Corona, NY 11368, USA
Scene where Kay and Jay park near the Unisphere and use their big guns to bring down the stolen spaceship causing it to crash through the Unisphere.
Scene was shot Constructed for the 1964 New York World's Fair, the Unisphere is a 120 foot stainless steel globe, the world's largest, designed by the landscape architect Gilmore D. Clarke to fit into his larger plan for the park. The globe is circled by three orbital rings representing the orbits of Yuri Gagarin, John Glenn, & the Telstar satellite. This globe replaced the older Perisphere which was constructed in the same location for the 1939 World's Fair but scrapped at the end of the event.

On the map

Timing: None
GPS: ['40.7463847', '-73.8450616']
Real
In movie