The Girls Next Door was filmed in Los Angeles & New York in the United States of America.
Locations
Los Angeles International Airport (LAX)
1 World Way, Los Angeles, CA 90045, USA
Scene where None
Scene was shot LAX is the fourth busiest airport in the world (2nd in the United States) that covers over 3,500 acres near the beach between Westchester & El Segundo. The airport first opened in 1930 under the name Mines Field and got its current name in 1949. Four parallel runways serve the airport the longest of which is almost 13,000 ft long. LAX has nine passenger terminals with 128 gates as well as a cargo terminal and heliport. The distinctive googie-style Theme Building in the center of the terminal complex was designed in 1961 by architect Paul Williams. The arched structure contains a panoramic retro-futuristic restaurant with views of the airport.

On the map

Timing: None
GPS: ['33.9441269173', '-118.402622939']
Real
In movie
The Battery
Battery Park, New York, NY, USA
Scene where None
Scene was shot The southern shore of Manhattan has been known as The Battery as far back as the 17th century when it housed the guns that protected Manhattan from attacks by sea. The remaining west battery, known as Castle Clinton and built just before the Ware of 1812, was originally constructed on a small island off the shore and eventually the land expanded and encircled the fort in 1855. The modern park now occupies 25-acres and features a small far, restaurant, carousel, and WWII memorial.

On the map

Timing: None
GPS: ['40.7031026295', '-74.0157511685']
Real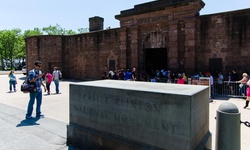 In movie