The Royal Tenenbaums was filmed in New York in the United States of America.
Locations
Lindbergh Palace Hotel
301 Park Ave, New York, NY 10022, USA
Scene where None
Scene was shot Actually it's the Hotel Waldorf Astoria, and it's in New York City. This hotel stared in the 1890s. In this era of hotel chains, brands and consortia, there are now a group of hotels which can be referred to by this name. All are fine luxury hotels but, my friends, there is only one true Waldorf Astoria; 301 Park Ave., New York City. The very name recalls Art-Deco charm, old New York style, and the epitome of luxury service and excellence in accommodations.

On the map

Timing: None
GPS: ['40.7564817456761', '-73.9734148979187']
Real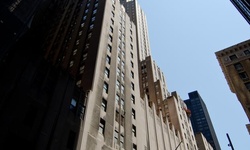 In movie