You Stupid Man was filmed in New York in the United States of America.
Locations
Bow Bridge (Central Park)
Bow Bridge, New York, NY 10024, USA
Scene where None
Scene was shot A cast iron bridge crossing over The Lake designed by Calvert Vaux & Jacob Wrey Mould and opened in 1862, the first cast-iron bridge built in the park. Bow Bridge is the longed bridge in Central Park clocking in at 87 feet. The bridge is topped by eight cast-iron urns which are duplicates installed in 2008 to replace the originals which disappeared in the 1920s.

On the map

Timing: None
GPS: ['40.7757809334', '-73.9718041196']
Real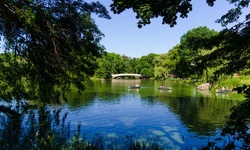 In movie