Although the plot of the movie takes place in the Amazon, the shooting of the film took place in Hawaii, many scenes of the port city and the railway were filmed there. And most of the jungle scenes were already filmed in the Atlanta studios. The film crew spent a lot of time exploring the flora and fauna of the Amazonian jungle, including several expeditions. They did this to create a realistic and lively picture.
Locations
River city
-
Scene where Lily meets Frank and hires him as her guide.
Scene was shot in real scenery. This whole huge building was erected on the banks of the reservoir specifically for filming. Yes, it's hard to believe, but these are not real colonial buildings from 1910, but simply a scenery, and not the only one built for this film. An interesting fact is that indoor shooting was also done in this city, i.e. these are not just plain walls, but worked out interior. According to the director, such decision was made for more natural lighting and creating the right atmosphere.

On the map

Timing: 00:00:00
GPS: 22.018919585108367, -159.39765540114388
Real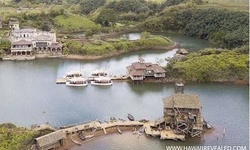 In movie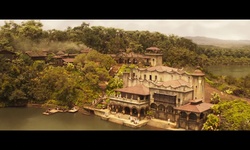 Railroad
Depot, 3-2087 Kaumualii Hwy, Lihue, HI 96766, US
Scene where -
Scene was shot on the former sugar Kauai Plantation. Now it works as a tourist attraction. You can visit this place from the movie and even take the train. Detailed information can be found on their website - https://www.kilohanakauai.com/plantation-train

On the map

Timing: 00:00:00
GPS: 21.97122969549329, -159.39259519204373
Real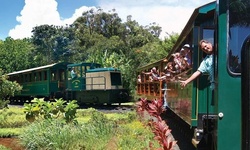 In movie