The shooting of the famous film didn't take place as everyone was thinking - in a village near Moscow, but in the Republic of Karelia, in a small town located in the very north of Lake Onega. Resort scenes were filmed in Batumi, and part of the filming took place in the pavilions of Mosfilm.
Locations
Vasya's home
Scene where All the scenes in and around the house, as well as the scenes in the dovecote.
Scene was shot in the city of Medvezhyegorsk on the Kumsa River, Karelia. The original house was demolished after a fire in 2011, but a local resident decided to restore the house and the dovecote at the original location on their own. Now you can visit this place and admire a copy of the filming location. By the way, the veranda and the dovecote were built specifically for filming, initially they were not in the house.

Timing: 00:00:00

How to get to the spot
Medvejegorsk, Kareliya, 186350 Russia
GPS: 62.91892985882968, 34.43063523679144
go to map
Real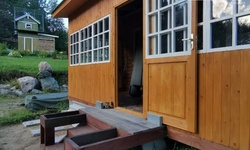 In movie
Cafe in the resort
Scene where Vasya with Raisa Zaharovna had walking on the resort
Scene was shot in the cafe "Fantasy" or as it was called by the locals - an octopus, it was abandoned in 2000 and completely lost its beautiful appearance. But recently it was restored and launched, retaining the appearance of 1975. Now anyone can visit it and even have a cup of coffee there. By the way, the menu in the cafe is not very big and it's worth going for the sake of nostalgia and recognizable photos.

Timing: 00:00:00

How to get to the spot
MJ2G+23G, Batumi, Georgia
GPS: 41.650039966444375, 41.62515711349454
go to map
Real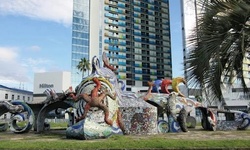 In movie