The film was shot in Manchester and London, even the New York scenes. To do this, the film crew brought a dozen yellow taxis and a set of American road signs to London.
Locations
New-York street
-
Scene where -
Scene was shot in Manchester, on Stevenson Square. For this the street was transformed to look American and all the signs were replaced with the green ones, and a bunch of yellow taxis from America were brought here as well. And of course, they had to change the traffic to be left-handed.

On the map

Timing: 00:00:00
GPS: 53.48262712186602, -2.2337396711648454
Real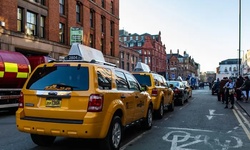 In movie
New-York alley
53.48025443818336, -2.23313435767031
Scene where Dr. Morbius in an orange jumpsuit walks down a graffiti alley.
Scene was shot on a side street in Manchester. In the background you can see graffiti with spider-man, however in reality, of course, it doesn't exist. This is also an alley decorated with graffiti, but it is simpler and is not located in New York.

On the map

Timing: 00:00:00
GPS: 53.48025443818336, -2.23313435767031
Real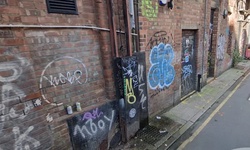 In movie