Последний богатырь
Where was
Posledniy bogatyr

filmed
Filming took place in Moscow, and basically all the scenes were filmed in real scenery, and not with greenscreen. The rocks where the characters are forced to make their way were filmed in the mountains of Kabardino-Balkaria and Adygea. The scenes where Ivan enters the ancient world for the first time were filmed in the Mozhaisk district of the Moscow region.
Locations
Belogorye
-
Scene where we see Belogorye
Scene was shot like all shots of the fabulous city of Belogorye in a specially built scenery, which is located in the Moscow region, not far from Khimki. Some of the buildings were constructed during editing, but the scenery itself is impressive. The place is open for everyone to visit. However, it is not guarded and decays quickly enough.

On the map

Timing: 00:00:00
GPS: 55.930653611179935, 37.34378576276684
Real
In movie
Chudo-Yudo's cave
-
Scene where Hikers, trying to shorten the path, end up in a cave where Chudo-Yudo sits.
Scene was shot in the Uaz-Abaa cave in the mountain gorge of Abkhazia. There is a cave to the north of Sukhum, it is not be possible to get there by car and it is better to look for an experienced guide.

On the map

Timing: 00:00:00
GPS: 43.064820368004476, 40.99188935409099
Real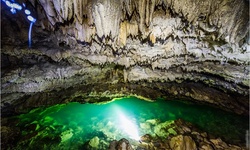 In movie