Taxi Driver was filmed in New York in the United States of America.
Locations
302 W 47th Street
302 W 47th St, New York, New York 10036, USA
Scene where Travis Bickle is walking the street of New York before he enters a porno parlor.
Scene was shot http://www.popspotsnyc.com/iconic_new_york_city_film_locations/

On the map

Timing: None
GPS: ['40.760414', '-73.987646']
Real
In movie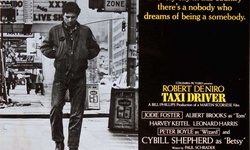 E 13th Street (door)
202 E 13th St, New York, New York 10003, USA
Scene where Young Iris is waiting for a next customer.
Scene was shot None

On the map

Timing: None
GPS: ['40.732394', '-73.987365']
Real
In movie