The geography of filming the film is very extensive, but the actors did not leave the USSR, all foreign scenes were filmed in Baku, and the scenes of the USSR were already filmed in Moscow, the Moscow region and the Black Sea.
Locations
Stambul
Scene where Semen Semenych is the main character falls, slipping on a banana skin
Scene was shot This is the most famous scene where Nikulin breaks his arm. It was not filmed in Istanbul, but in Baku, on Kichik Gala street. The city already has a foreign, oriental look, but for greater accuracy, there were put signs with inscriptions in foreign languages on the street. This street is now popular among tourists, as it has completely similar to a movie look its. It is very popular to make photos imitating the fall there.

Timing: 00:00:00

How to get to the spot
15 Kichik Qala, Baku Azerbaijan
GPS: 40.36783890272247, 49.8341574
go to map
Real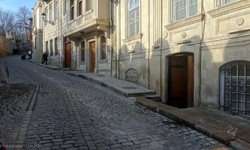 In movie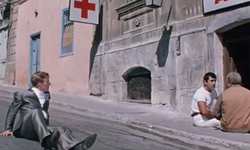 Beach
Scene where fishing, where Kozodoev walking on water
Scene was shot at the beach on the shore near Anapa, and the part where Gena Kozodoev walks on the water was already filmed in Novorossiysk, on the Sudzhuk Spit. By the way, there is a monument to Gosha Kozodoev on the shore near this place.

Timing: 00:00:00

How to get to the spot
Sudjukskaya kosa str., Novorosiysk, Russia
GPS: 44.68411988786135, 37.80370722527322
go to map
Real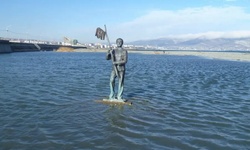 In movie