The Mule was filmed in Las Cruces, Decatur, Stockbridge, Atlanta, & Canton in the United States of America.
Locations
White Sands National Park
Scene where Earl passes White Sands National Park during one of his rides.
Scene was shot White Sands National Monument is a United States national monument located in the state of New Mexico on the north side of Route 70 about 16 miles (26 km) southwest of Alamogordo. The monument is situated at an elevation of 4,235 feet (1,291 m) in the mountain-ringed Tularosa Basin and comprises the southern part of a 275 sq mi (710 km2) field of white sand dunes composed of gypsum crystals. The gypsum dune field is the largest of its kind on Earth.

How to get to the spot
US-70, Alamogordo, New Mexico 88310, United States
GPS: 32.7762908935547, -106.178123474121
go to map
Real
In movie
Shane's Rib Shack
Scene where Earl take his Mexican escorts to the restaurant. The police officer wants to know what the Mexicans are doing there.
Scene was shot None

How to get to the spot
2136 GA-155 N, McDonough, Georgia 30252, United States
GPS: 33.5081901550293, -84.1401519775391
go to map
Real
In movie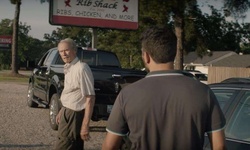 Floral Garden
Scene where Earl wants to get his house back.
Scene was shot Shaw's Sunshine Gardens, located on the corner of Lumpkin Road and Lumpkin Park Drive, is the home of Charlie and Debra Shaw. The gardens are a combination of eclectic freeform country garden and regimented commercial beds. The heritage portion of the garden represents the efforts of Jane Shaw over the past forty plus years. It contains a mix of varied perennials that include many older daylily cultivars along with roses, fruit trees and annuals that vary from season to season.

How to get to the spot
5338, 3096 Lumpkin Park Dr, Augusta, Georgia 30906, United States
GPS: 33.424919128418, -82.048942565918
go to map
Real
In movie