The Proposal was filmed in Boston in the United States of America.
Locations
Alaska Home
Scene where The Alaska home of the Paxton family.
Scene was shot An extensive three-story single-family home at 5 Gales Point Road, Manchester, Massachusetts. This approximately one hundred fifty-three hundred square feet property offers nine bedrooms and nine bathrooms. Features include fireplace and more than seventeen hundred square feet basement.

How to get to the spot
5 Gales Point Rd, Manchester-by-the-Sea, Massachusetts, United States
GPS: 42.5607070922852, -70.775634765625
go to map
Real
In movie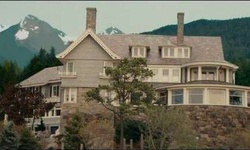 Office
Scene where Margret proposes to Andrew in the middle of the street
Scene was shot The Jacob K. Javits Federal Office Building at 26 Federal Plaza on Foley Square in the Civic Center district of Manhattan, New York City houses many Federal government agencies, and, at over 41 stories, is the tallest federal building in the United States.

How to get to the spot
318 Broadway, New York, New York 10007, USA
GPS: 40.715719, -74.004876
go to map
Real
In movie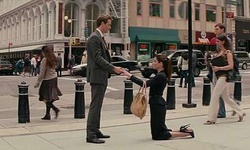 Motif Number 1
Scene where Andrew throws Margaret's Louis Vutton bag in the water when they get on the boat in Sitka to the home of Andrew's family.
Scene was shot Motif Number 1, located on Bradley Wharf in the harbor town of Rockport, Massachusetts, is a replica of a former fishing shack well known to students of art and art history as "the most often-painted building in America." The original structure was built in 1840 and destroyed in the Blizzard of 1978, but an exact replica was constructed that same year. In the 1930s, painter John Buckley used the shack as his studio.[4] He sold it to the town in 1945, dedicated "In 1945, the town of Rockport purchased the Motif as a monument to Rockporters who had served in the Armed Services. The dentist's office in the popular animated film 'Finding Nemo' has a picture of Motif Number 1 hanging on the wall, a tribute by director Andrew Stanton to his hometown of Rockport.

How to get to the spot
98 Bradley Wharf, Rockport, Massachusetts 01966 USA
GPS: 42.659294128418, -70.6149673461914
go to map
Real
In movie
Beverly Municipal Airport
Scene where Andrew and his family try to stop Margaret from leaving Alaska at Sitka Airport.
Scene was shot Beverly Regional Airport is a city owned, public use airport located three nautical miles (6 km) northwest of the central business district of Beverly, a city in Essex County, Massachusetts, United States.

How to get to the spot
46 L P Henderson Rd, Beverly, Massachusetts 01915, USA
GPS: 42.5854263305664, -70.9128036499023
go to map
Real
In movie