Top Gun: Maverick was filmed primarily in San Diego, California, but also in Nevada, Utah, and Washington State.
Locations
Air base
Scene where Pitter "Maverick" race with a taking off plane.
Scene was shot Naval Air Station North Island is located in the northern part of the Coronado Peninsula in San Diego Bay.

How to get to the spot
None
GPS: 32.705595572135515, -117.2155228
go to map
Real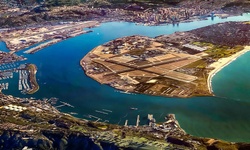 In movie
Hangar in the airport
Scene where The opening and final scenes in the Mojave Desert hangar with the silver P-51 Mustang
Scene was shot at the Inyokern Airport in California. This World War II veteran is actually Cruise's own airplane who is also a licensed pilot in the real world.

How to get to the spot
None
GPS: 35.648555969418446, -117.82609457093317
go to map
Real
In movie