The film is based on real events - the widow Winchester, feeling remorse, endlessly built and rebuilt her house. The work went on until the moment when her fortune, inherited from the invention of weapons by her husband, dried up. And it was enough to build a huge house with a very intricate layout. It contains over 500 rooms and an infinite number of corridors.
Locations
Winchester house
525 S Winchester Blvd, San Jose, CA 95128, US
Scene where -
Scene was shot as well as all close-ups of the house - on the real Winchester mansion. However, many rooms are not suitable for the filming. Therefore, the artists and designers had to create rooms, stairs and corridors in the studio. Some of them have been changed a little, for the convenience of the filming, but in general, everything that we see in the frame is almost a copy of a real mansion.

On the map

Timing: 00:00:00
GPS: 37.31822941084478, -121.95113493068128
Real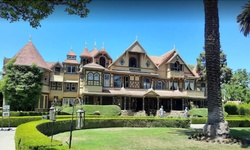 In movie